The new locations, which began with the public opening of Coach in February and continued with Montblanc in April, Emporio Armani in May and Thomas Pink on August 10, are all located near gates D-9 and D-10 in Concourse D.
DFA celebrated the new stores with a grand opening ceremony that included guided tours by brand representatives and ribbon cuttings for each store, a red carpet fashion show with professional models by Emporio Armani, entertainment by a classic pianist, and grand opening remarks by DFA President Jerome Falic and Miguel Southwell, MDAD Deputy Director of Business Retention and Development.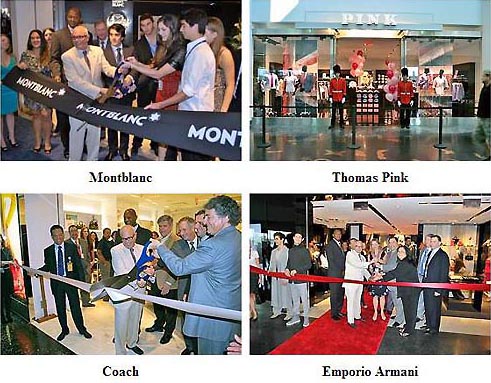 Two mock guards dressed in the traditional British "Coldstream Guards" uniform flanked the entrance of the 1,265-square-foot Thomas Pink store, the brand's first U.S. airport location. Established in London, Thomas Pink is part of the Louis Vuitton Moet Hennessey group and a leading international retailer of luxury shirts and fine clothing, with flagship stores in London, New York, Paris and more than 80 boutiques and concessions worldwide. The MIA store offers an array of men's and women's apparel and a wide range of accessories.
MIA's Emporio Armani store – the brand's first airport location in North America – is a 1,020-square-foot boutique that offers the brand's complete lifestyle collection for men and women, including formal wear and casual wear, sportswear, leather accessories, watches, eyewear and jewelry.
The 690-square-foot Montblanc location is the brand's first-ever travel retail boutique and features its renowned high-quality writing instruments as well its expanded product range that now includes writing accessories, leather goods, male and female jewelry, eyewear and watches.
The 1,075-square-foot Coach boutique is one of only two airport locations for the brand in the U.S. and offers leather goods and men's and women's accessories.
Duty Free Americas, Inc. is the largest duty free retailer in North America, with 115 duty free and news and gift stores in U.S. airports and along the U.S. borders with Canada and Mexico.
"DFA's new boutiques take the luxury brand offerings at MIA to another level with duty free products not yet available in other airports," said Adrian Songer, MDAD Concession Business Development Chief. "We are extremely honored that DFA chose MIA as their first U.S. airport for these prestigious, high-end brands."