Leading US duty free operator Duty Free Americas (DFA), and its owners, Simon, Jerome and Leon Falic, took a giant step forward in expanding its international business beyond the Americas on August 28, opening two stores in the new super deluxe Venetian Macau Resort Hotel complex, their first operation outside of the Americas.
Macao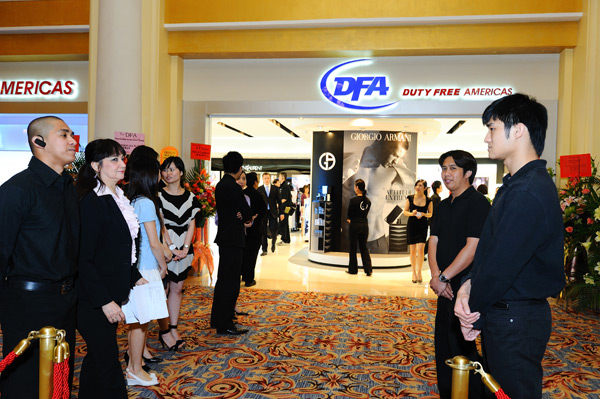 , a duty free resort area located 70 miles from Hong Kong, is a colonial city with a Portuguese/ Chinese heritage. Over the past few years it has become positioned as a worldclass business and leisure destination. According to recent statistics from China released by the Macau Tourism Board, 22 million tourists visited Macao in 2006. Macao expects between 24 and 25 million visitors in 2007, with over 50% of the arrivals coming from mainland China.
The 3,000-suite Venetian Macao is one of the centerpieces of the city's development and the anchor of the Cotai Strip, which will eventually house a potential of 3-million square feet of shopping malls. The complex was developed by the owners of Las Vegas Sands Corp. who also developed the Venetian Hotel and Casino in Las Vegas.
The Venetian Macao's Grand Canel Shoppes feature nearly one million square feet of retail space on three levels. The Baroquethemed mall will encompass 350 luxury and super luxury shops says the company.
At the resort's opening on Tuesday, DFA unveiled one shop of approximately 4,000sf that carries fragrances, cosmetics, sunglasses and electronics and, located across from it, a second 4,000sf shop carrying liquor, tobacco and confectionary.
"Our shops are in an excellent position near the casino," Jerome Falic, DFA chief executive officer tells Insider.
"They are located at the entrance where the buses drop off the people and where most visitors to the hotel will be coming through. The hotel is expecting about 50,000 people a day to come through those doors."
Falic adds that the casino is the largest in the world, and "is packed with people. It is really an amazing sight. I have never seen or imagined anything like it," he said.
In addition to the two DFA shops on the ground floor, Falic says the company is opening an 8,000sqf store upstairs on the Canal level in November.
"It will feature an 850sqf Lancôme shop, an 800sf Cartier corner and an 800sf Bulgari corner, in addition to other luxury brands," he said.
In related news, DFA has hired Martha Rosas, well-known duty free manager of eyewear group Luxottica, as purchasing director for Asia: "Martha is located in Hong Kong overseeing the purchasing for our first project there in Macao," said Falic.